INDOOR POOL

incl. outdoor pool in summer

3-hours bath ticket
Single entry

3-hours bath ticket
Supplementary payment for every 1/2 hour

Swim Day ticket
Single entry

Loyalty Cards
10+1 entry, 3 hours
Long-term-swim-tickets
Annual pass

Long-term-swim-tickets
Summer Card

teenagers
Students and seniors

SAUNA

inCL. OUTDOOR & INDOOR POOL

3-hours sauna & swim ticket
Single entry MON-FRI (winter)
Single entry MON-SUN (summer)

3-hours sauna & swim ticket
Single entry SAT+SUN
including school break (winter)
Daily Sauna & Bath
Single entry MON-FRI (winter)
Single entry MON-SUN (summer)

Daily Sauna & Bath
Single entry SAT+SUN
including school break (winter)

Sauna & Swim Loyalty Card
10+1 entry, 3 hours

Sauna & Swim Loyalty Card
10+1 day tickets

Sauna & Swim Annual pass
3 months - 90 open days

Sauna & Swim Annual pass
Sauna & Swim Long-term-ticket

TEENAGERS
STUDENTS AND SENIORS

Admission is free for children up to the age of 4

---
Teenager < 18 years
Students < 26 years (I.D. required)
---
Seniors > 65 years
> 85 years: free admittance
---
Group tickets for 3 hours in the outdoor/indoor swimming pools and sauna, and daily ticket: 10+1 admissions
---
Civil disabled persons (Indoor pool + sauna):
Disability 65-99% = Senior price.
Disability 100% = Free admission on presentation of the disabilty certificate.
No price reduction for accompanying person.
Victims of workplace accidents pay normal entry-prices.
---
Families max. 2 adults (parents or grandparents)
and max. 4 children < 14 years or respectively pupils < 19 years,
with I.D.
---
Admission to sauna facilities only during the "family-sauna" for kids and teenagers up to 16 years.
---
Lost, damaged, unoccupied or unused tikets will not be refunded.
Deposit towels/deck chair/parasol 10,00 €
Rental bath towel or sauna towel 4,70 €
rental deck chair/parasol 3,00 €
for every additional minute 0,50 €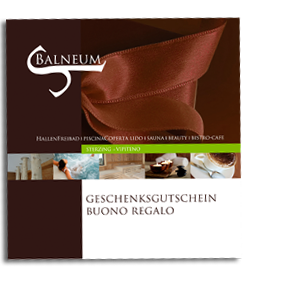 The always welcome gift:
the Balneum Wellness-Gift-Card.
Please ask for more information at the desk at the entrance.